Today, when I awoke, I suddenly realized that this is the best day of my life, ever. There were times when I wondered if I would make it to today; but I did.
That's because only those who can see the invisible can accomplish the impossible. Obstacles are those frightful things you see when you take your eyes off your goal. Remember, the only reason for time is so that everything doesn't happen at once.
So, today I'm going to celebrate what an unbelievable life I have had so far: my accomplishments and, yes, my very difficult hardships. But I will go through this day with my head held high, and as the day ends and I lay my head down on my pillow, I will thank the Almighty for the best day of my life.
And then, I will sleep the sleep of a contented child, excited with expectation, because I know tomorrow is going to be the best day of my life, ever.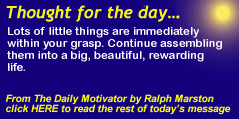 Life is a beauty, admire it. Life is a dream, realize it. Life is a duty, complete it. Life is a game, play it. Life is a promise, fulfill it. Life is a song, sing it. Life is an adventure, dare it. Life is luck, make it. Life could be a challenge, meet it.
Because life is life, live it!
Copyright © 2001- 2017 . SouthFloridaTelecom.com LLC . All Rights Reserved